In response to a lawsuit filed on March 3, 2017 by attorney Daniel Horwitz on behalf of Plaintiff Dustin Owens—who was issued a citation in early February for displaying what a Metro Nashville Police Officer claimed was "an obscene bumper sticker"—lawyers for the city of Nashville have conceded that "Mr. Owens is correct that the bumper sticker at issue does not fit the criteria of 'obscene and patently offensive' as those terms are defined in Tenn. Code Ann. § 55-8-187 and under relevant First Amendment jurisprudence."  As a result, Metro has agreed to dismiss Mr. Owens' citation and accept a declaratory judgment that the bumper sticker at issue "is protected by the First Amendment to the U.S. Constitution."  Under the parties' settlement agreement, Metro will also pay for the costs of Mr. Owens' lawsuit.
Mr. Owens' resounding legal victory comes after extensive local and national media coverage of his arrest for displaying the following crass but comical bumper sticker: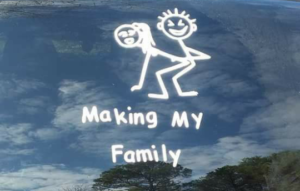 Said Horwitz, Mr. Owens' counsel: "The statute under which Mr. Owens was cited is facially unconstitutional.  Hard-core censorship of this nature also has no place in a free society.  We're ecstatic about this victory, and we appreciate Metro's prompt concession that the position taken by Mr. Owens' arresting officer was nakedly meritless."
Daniel Horwitz is a First Amendment lawyer based in Nashville, Tennessee.  Selected case documents and media reports about the case are available below.  If you would like to purchase a consultation from Horwitz, you can do so using the following form:
Waiting for PayPal...
Validating payment information...
Waiting for PayPal...
Media Coverage:
–Patch: Obscenity Charges Dropped In Nashville Stick Figure Sex Case
–Faultlines: Nashville Cops Hate Stick Figure Sex (and the First Amendment)
–Heat Street: Tennessee Cops Back Down on Fine For 'Obscene' Bumper Sticker of Stick Figures
–TechDirt: Driver Sues State After Receiving Ticket For 'Obscene' Stick Figure Vehicle Decal
Case Filings:
–Plaintiff's Application for Temporary Injunction